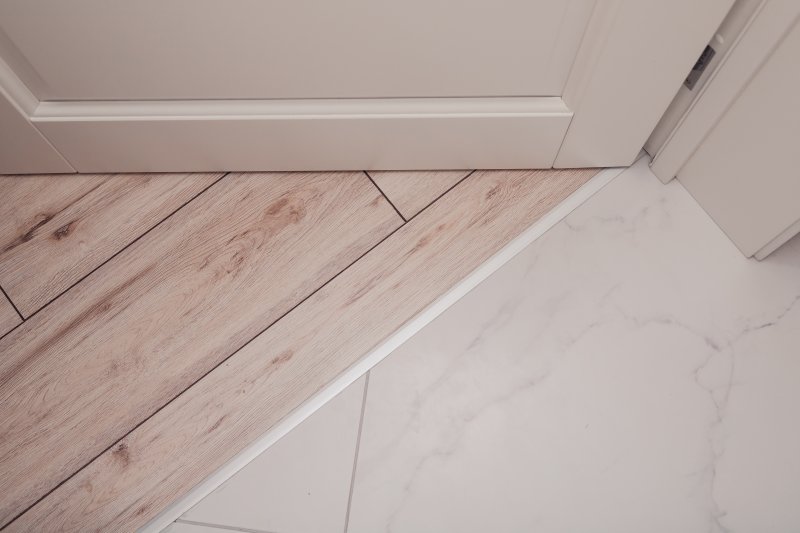 You love your wood flooring, but you realize the next room would look and feel better with a different material beneath your feet. Whether you're transitioning from a kitchen to a living room or a bedroom to a bathroom, here are a few tips to consider that will make the change between floorings as seamless as possible.
What Exactly Do We Mean By "Transition?"
When entering a room, if you look down, you may notice a strip that separates the threshold of each area. Although this is not always the case, it helps to differentiate where one type of flooring stops and another one starts.
Of course, the types of materials that contrast is not the only transition you must consider. It is also helpful to think about the differences between rooms of the same height as well as those of different heights (i.e., den and kitchen or the living room and den).
Different Heights, Different Floors
Depending on the style and layout of your home, certain rooms may sit higher than others. If you are moving from the living room to your kitchen, and the latter sits higher, you might consider installing a strip that matches the flooring of your kitchen floor.
You'll find that the floor trim can make a big difference when trying to create a seamless transition from room to room. Whether you stain it or look for strips that are the same in thickness as one of the floor materials, different heights do not have to be a cumbersome issue within your home.
Same Heights, Different Floors
This is most commonly found in a bedroom and bathroom or also a living room and kitchen. If you have tile in one and wood or carpet in the other, you'll need a method of transitioning without bringing much attention to the change in flooring. This can be accomplished with the use of accent borders, interlocking materials, or perpendicular wood designs.
Working with a trusted professional can make this process much easier, as they can share various methods and techniques used to create a blended look without shining a spotlight on the change in flooring.
Whether you choose mosaic tiles, wood planks, or a beautiful and subtle accent, seeking the help of a professional can make life much easier and new floors more attainable.
About the Company
Prestige Floors is a small, family-owned and operated business based in Keller. As a husband-and-wife team, Benson and Ashley Kelly have been improving and transforming the homes of Keller residents and its surrounding communities since 2006. With years of experience and an eye for design, their team is trusted, bonded, and offers only the very best flooring for eager homeowners. If you are interested in replacing your floors or remodeling your home, contact us at (817) 422-5343 to schedule a FREE in-home estimate.