Vinyl Flooring – Keller, TX
Versatile, Beautiful,
& Trusted to Last
Whether you're redoing the floor in your living room, kitchen, or your children's play area, vinyl flooring is a solid choice that you'll find in countless homes around Keller and beyond. It allows homeowners to enjoy the look of a solid hardwood or stone floor without the expense, plus it's able to stand up to activity, heavy furniture, and moisture better than almost any other material. We offer vinyl flooring in almost any pattern you can imagine, and we can't wait to install your new floor and instantly boost the value and beauty of your home. To learn more about your options for vinyl flooring in Keller, TX and schedule a FREE in-home estimate, contact us today.

Why Choose Prestige Floors for Vinyl Flooring?
Maple, Mahogany, Oak, & More Vinyl Pattern Options Available
We Handle Everything From Estimate to Installation
Family-Owned & Operated Business
Benefits of Vinyl Flooring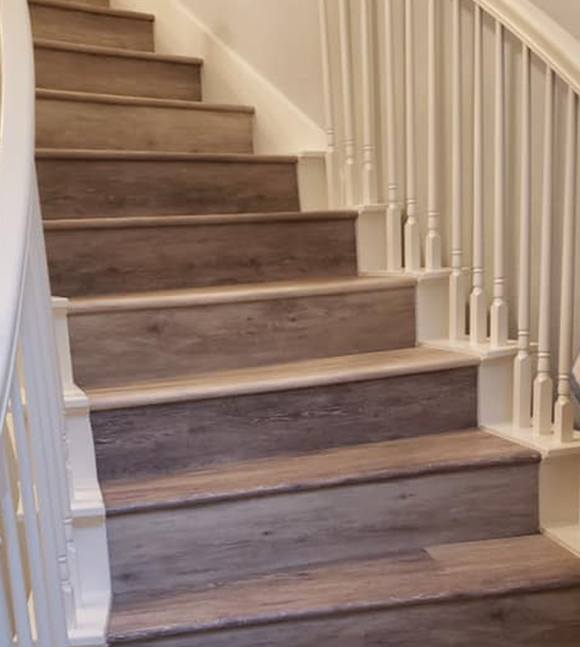 The best part about vinyl flooring is that it makes life simple for homeowners. Do you want it to look like an oak floor? Granite? Marble? It comes in an endless variety of colors and styles and costs significantly less than hardwood or stone flooring. And, because it's a synthetic product, it also stands up to moisture very well, so you can put it in any room in the house and not have to worry, including bathrooms, kitchens, and outdoor spaces. Cleaning is as easy as using a mop or running a vacuum, and you never have to refinish it.
Vinyl Flooring vs Hardwood Flooring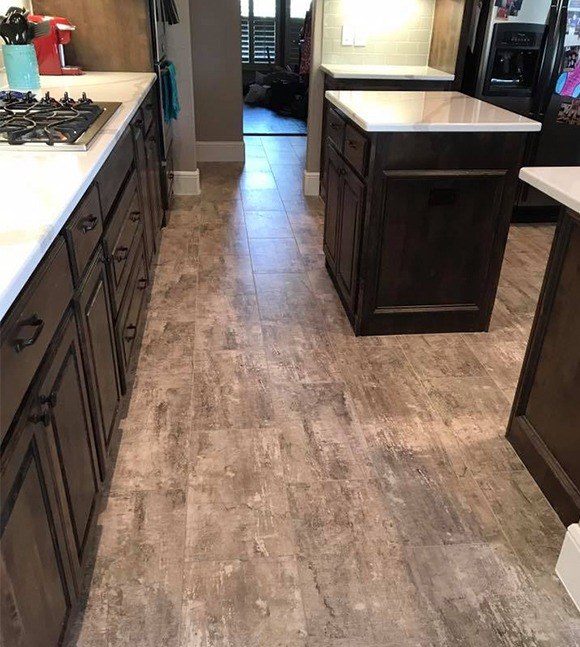 While hardwood flooring looks beautiful and has a certain presence that you just can't get with other materials, it does require more maintenance than vinyl to ensure it stays spotless throughout the decades. With vinyl, you can be less fussy when it comes to messes and cleaning because the material is notably durable and very stain-resistant. It also doesn't expand and contract like wood when it encounters different humidity levels, meaning it won't warp or change shape. Vinyl is also great for high-activity areas and doesn't scuff and scrape like hardwood, which is why it's a popular choice for homes with children and pets.
Vinyl Flooring vs Laminate Flooring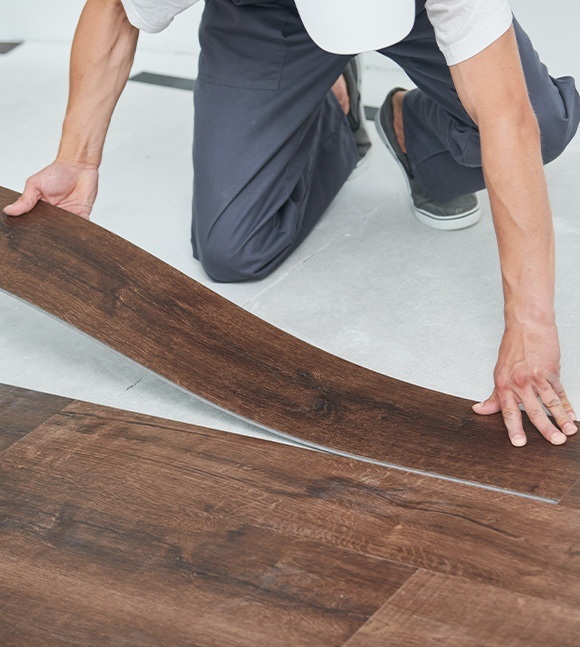 Vinyl flooring is a 100% synthetic product (usually a type of plastic) that is topped with a laminate layer that covers a highly-sophisticated print intended to look like hardwood or stone flooring. Laminate flooring is somewhat similar, but instead of plastic, the body of the flooring is wood. This makes laminate feel a little more comfortable and warm underfoot, but it's much less resistant to moisture, and we almost always recommend vinyl in areas that involve water. Vinyl is also better at withstanding weight without incurring damage, like from heavy furniture, though dimples may develop over time.
Realistic Wood, Stone & Woven Texturing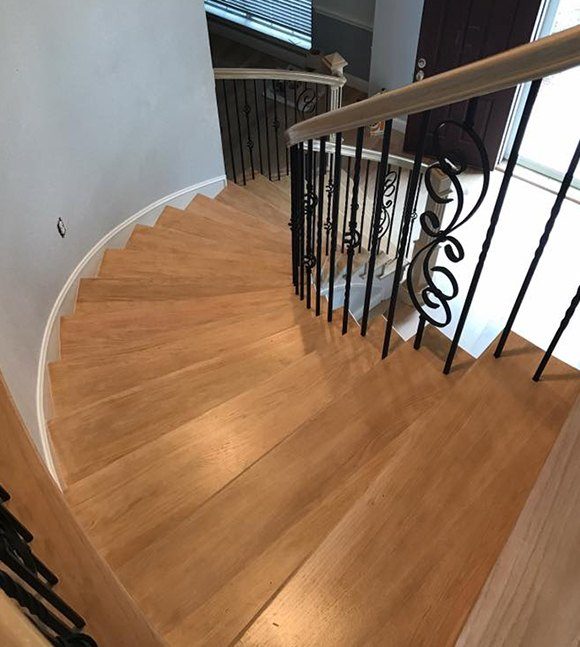 Vinyl flooring is easy on the eyes and a bit lighter on the budget compared to solid wood and stone flooring, and it comes in patterns that look exactly like these more expensive options. Want a marble floor in your kitchen and wood in your living room? You can get both with vinyl! Whenever you step into your house, you'll enjoy all the aesthetics and beauty of a wood or stone floor, but you can trust that it won't develop scuffs, scrapes, or be easily damaged by the day-to-day activity in your home.