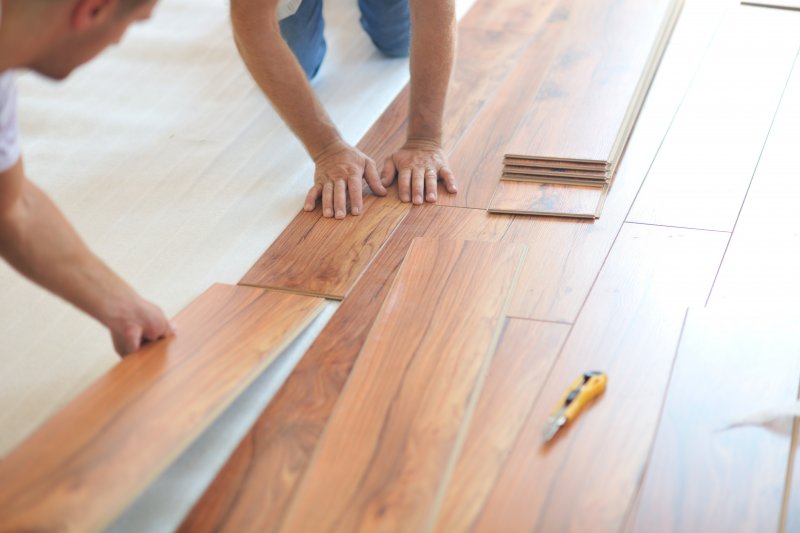 Replacing or laying wood flooring in your home isn't typically a job for the average person. It takes training, skill, and a knowledge of how these materials should be laid in order to create a seamless and cohesive look. If you're looking to change the appearance of a particular room but want the help of a professional, here are three reasons it's better to hire a flooring installation contractor.
Installation Made Easy
Between finding the right tools and making sure your measurements are right, there's a lot that can go wrong if you attempt to install your own floors. But if you entrust this project to a licensed professional, you can end up with beautiful results.
When opting for a contractor to do the job, you can rest easy knowing they have the skills as well as best practices to make the installation easy. To become licensed in the profession, these individuals must display and exhibit a clear understanding of the trade. As a result, you can feel more confident in the work being done inside your home
Easy Cleanup
One of the biggest headaches with any home project is the cleanup. No one likes having to pick up all the remnants left behind from old flooring; however, a licensed contractor will take care of it all. While it may look a bit messy at first, once the installation is complete, all the scraps will be properly discarded. Instead of renting a dumpster or taking the time to haul it off yourself, the individuals you choose to complete the project will take care of it for you.
Not only does this eliminate unnecessary stress for you as the homeowner, but it also helps to reduce the impact on the environment. Many licensed flooring contractors know whether materials can be recycled or not, so you can actually help the environment in the process!
Convenient For You
If you're the type of person who views home remodels as something "fun," you may not be too excited about hiring another individual to come in and do the work for you. However, what you will find is that many people who are eager to get their hands dirty only like doing it for a short time. Then, it becomes a trying and exhausting effort.
Instead of focusing your energy on floor installation yourself, you can opt for greater convenience by hiring a professional. If there are other smaller projects you can manage, this hand-off will allow you to spend more time in other areas of your home while avoiding the headache and stress that can come with trying to take on such a large endeavor on your own.
Finding a licensed flooring installation contractor doesn't have to be difficult. The professionals at Prestige Floors are here and ready to help you enjoy your home. If you're ready to leave it to those who know the industry and trade best, don't wait to reach out.
About the Company
Prestige Floors is a small, family-owned and operated business based in Keller. As a husband-and-wife team, Benson and Ashley Kelly have been improving and transforming the homes of Keller residents and its surrounding communities since 2006. With years of experience and an eye for design, their team is trusted, bonded, and offers only the very best flooring for eager homeowners. If you are interested in replacing your floors or remodeling your home, contact us at (817) 422-5343 to schedule a FREE in-home estimate.