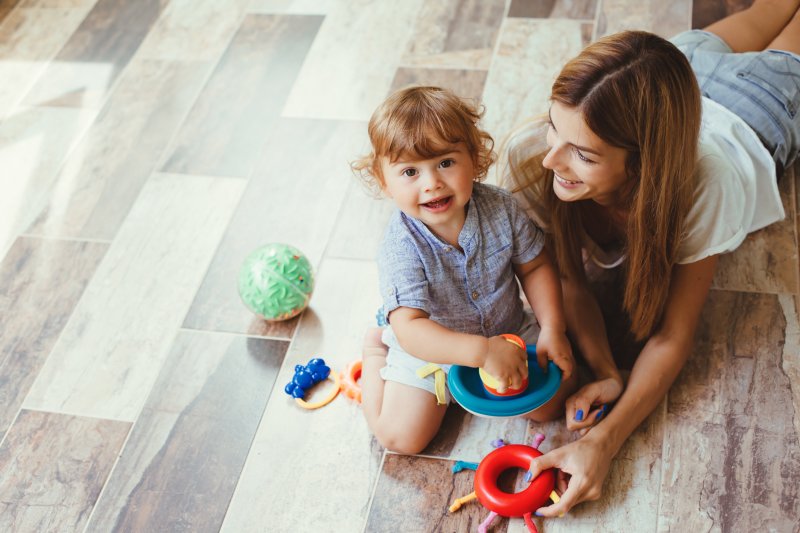 As a parent, you know from experience how messy children can be. Toddlers like to throw their toys everywhere and young kids enjoy running through the house with muddy shoes. Unfortunately, your floors have no choice but to put up with all that punishment. If you have a busy household, it's a good idea to choose a kid-friendly flooring option! With the right type, you can keep your floors safe and looking their very best. Read on to learn which are some of the best types of flooring for a home with kids.
Wood Flooring
Hardwood flooring is a natural, kid-friendly option that looks beautiful in any home! Not only is it non-toxic, but it's fairly easy to clean and maintain. Since it's much less porous than other types, it inhibits bacterial growth. Unless you experience severe water damage, your flooring will stand the test of time and last several years! Best of all, it's guaranteed to increase your home's resale value.
Laminate Flooring
Laminate flooring is an excellent option for many reasons. It's kid-friendly and affordable, all while looking high-end! In fact, it closely resembles genuine hardwood floors to achieve the same classic design. It's worth noting that laminate also has a protective scratch-resistant layer and is indentation-resistant, meaning it can withstand the force of dropped objects. Laminate flooring is also stain-resistant, which means cleaning up spilled drinks will be easier than ever before!
Vinyl Flooring
Like laminate flooring, vinyl flooring is quite easy to install and maintain. It's extremely water-resistant and spill-resistant, which is why it's a great option for families with children who constantly spill bowls of cereal or splash around in the bathtub. Another benefit is that vinyl is a softer material, offering a bit more cushion in case your child falls.
Rubber Flooring
If you walk into any daycare, it's very likely that you'll see rubber flooring. That's mainly because rubber is durable and can stand up to a variety of conditions. With proper maintenance, this type of flooring can easily last over two decades. Plus, rubber is very easy to clean! All you need is warm, clean water and a mop to keep your floors looking shiny and new.
Area Rugs
Don't want to change your existing floors? No problem! You can always add area rugs to your home to protect little knees and hands as they crawl. It's a great kid-friendly option that also makes it easy to change any room's style. If your rug happens to get damaged, you can simply swap it out for a new one.
Do you need help choosing the right kid-friendly flooring option? Reach out to a professional and ask for their expert opinion. They'll be more than happy to help!
About Prestige Floors
Prestige Floors is a small, family-owned and operated business based in Keller. As a husband-and-wife team, Benson and Ashley Kelly have been improving and transforming the homes of Keller residents and its surrounding communities since 2006. With years of experience and an eye for design, their team is trusted, bonded, and offers only the very best flooring for eager homeowners. If you are interested in replacing your floors or remodeling your home, contact us at (817) 422-5343 to schedule a FREE in-home estimate.