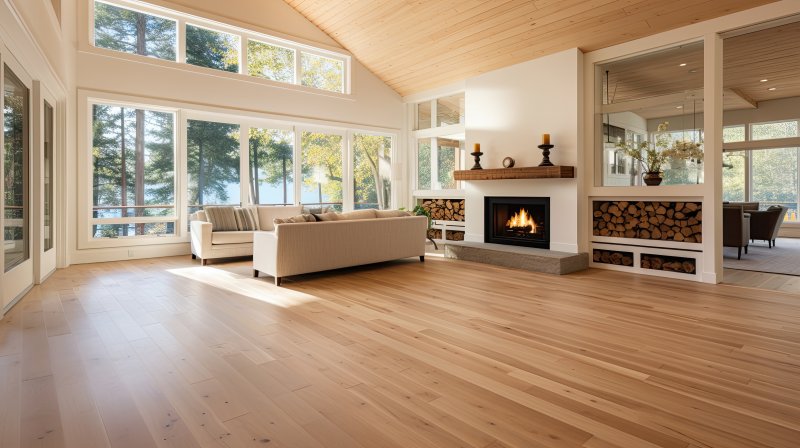 When meeting with a licensed and skilled flooring specialist, you may feel a bit overwhelmed by the various flooring options you are provided. While hardwood looks nice, you know it isn't exactly what you're looking for. While tile and stone appear lovely, you prefer something more comfortable underneath your feet. But the potential for vinyl or laminate seems like viable choices, but what makes them different? Keep reading to learn more about their unique traits and which one is right for your home.
What is Vinyl Flooring?
If you want floors that mimic the look of hardwood, granite, or marble, you cannot go wrong with choosing vinyl floors.
More cost-effective than many other types of materials (i.e., stone, hardwood, etc.), vinyl can be placed in virtually any room of the house because of how well it is designed to withstand moisture. Whether you're looking to replace the floors in your living room, bathroom, kitchen, or dining area, it is easy to clean, so you don't have to worry about stains or scratches along the way.
What is Laminate Flooring?
Laminate flooring also mimics the look of hardwood or stone and is much less expensive. This is one of the many reasons homeowners choose this type of material. Not only does it allow you to save money, but it also looks natural and is highly durable.
Laminate is also customizable, so you can choose from various styles, patterns, and colors, and you can rest easy knowing that your floors will be easy to clean. This is especially true if you have children and pets.
How Can I Choose the Right One for My Home?
Both vinyl and laminate work similarly to produce a natural, most cost-effective look, but the materials used and the way they are laid are different. With vinyl, the flooring is plastic and contains a printed layer that takes on the look of hardwood, stone, etc.
Laminate is made of wood and contains a printed top layer that looks like granite, marble, maple, etc. It is quiet to walk on and durable against your pet's nails or your kid's dirty shoes.
But which one is right for your home? If you want something that will hold up well to any moisture, your best bet is to go with vinyl. If you are looking for an option that allows for more comfort and can withstand daily foot traffic, laminate might be the better way to go.
No matter which one you choose, you can rest assured that your new floors will look and feel beautiful for years to come.
About the Company
Prestige Floors is a small, family-owned and operated business based in Keller, TX. Their husband-and-wife team, Benson and Ashley Kelly, have been improving and transforming the homes of Keller residents and its surrounding communities since 2006. With years of experience and an eye for design, their team is trusted, bonded, and offers only the very best flooring for eager homeowners. Whether you prefer laminate, hardwood, carpet, or one of the many other available options, we are here to help you get the look you desire. If you are interested in replacing your floors or remodeling your home, contact us at (817) 988-2083 to schedule a FREE in-home estimate.