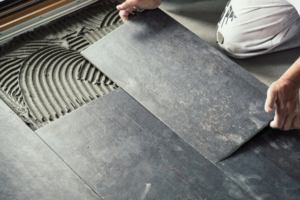 Let's face it—life is pretty busy, and there are often too many things going on that limit your time for cleaning and maintaining your floors! But fortunately, when it comes to floors, there are plenty of stylish options out there that are also conveniently low maintenance! Here are a few popular options so that you can select the one that's perfect for your home or project.
Popular Types of Low-Maintenance Flooring
When it comes to low-maintenance flooring, there are several different types that are capable of not just meeting your needs, but also providing you with beautiful lasting results that you'll love! Here are a few prevalent options:
Luxury Vinyl Tile
Many homeowners desire beautiful, finished hardwood floors throughout their living space—but the associated costs and required maintenance for these floors can be quite steep. But Luxury Vinyl Tile, also called LVT, can mimic the look of real hardwood and provide you with a notably durable solution. You won't have to worry about scratches from furniture, pets, or children, and with so many colors and finishes available, there's certain to be a style that perfectly suits your needs.
Hardwood
Hardwood floors are still manageable if you're set on getting them in your home, especially if they're installed by an expert. These options aren't just stunningly beautiful, but they can also retain incredible value when it comes time to sell, and all in all, they're durable for many years to come.
Carpet
Carpet is sometimes considered a little high maintenance since it does need to be vacuumed and deep cleaned every once in a while; however, modern carpets have come a long way, and the newer options are much easier to maintain than what's traditionally been used. For example, many carpets today are treated with products that assist with stain and static reduction, and many carpets also have non-slip surfaces which make them ideal for small children. All in all, carpets can be a very low-stress option that's also still quite easy to maintain.
Tile
Tile is a tried-and-true floor solution, and there's a good reason it's been used for a long time in bathroom, kitchens, and other important rooms—usually ones where water is present! Most types of tiles are waterproof and quite easy to clean, regardless of what was spilled. Not to mention, it can handle high amounts of foot traffic and retain its durability for quite some time.
Choosing the Best Low-Maintenance Flooring for You
With all of these awesome options that aren't just beautiful, but also incredibly low maintenance, there's certain to be a solution out there that perfectly suits your needs! That said, your vision can be made a reality with the help of a skilled flooring team, so don't hesitate to reach out for help; whether you go with tile, vinyl, carpet, or hardwood, you're certain to love the new look of your floors as well as the little maintenance needed to keep them beautiful!
About Prestige Floors
Prestige Floors has proudly served residents in the Keller area since 2006! You can trust their team to help you bring out your home's fullest potential and to provide you with solutions you're certain to love. If you have any questions about the blog, feel free to contact them online or over the phone for additional information or to schedule a free in-home estimate! Telephone: (817) 422-5343.