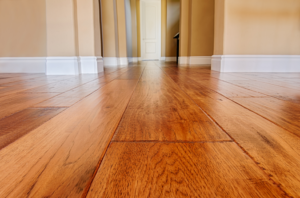 Hardwood flooring is among the most tried-and-true and popular of all flooring options, and though several choices these days try to mimic the look and feel of classic hardwood, nothing can compare to the original! That said, if you're thinking about upgrading your floors with hardwood, you might be curious about the benefits these solutions have to offer, as well as what choices best suit your needs. Keep reading to learn a little more about some of the advantages that hardwood floors have to offer, along with some popular options worth your consideration.
Three Priceless Benefits of Natural Hardwood Flooring
Here are the top three reasons to consider natural, solid hardwood flooring in your home:
Impressive durability – As long as it's properly cleaned and maintained, hardwood flooring has the potential to last for a lifetime; even up to 100 years! That said, it's generally easy to maintain the floor's natural integrity. Regularly sweep, vacuum, mop, and steam clean your floors—not only will this keep them clean, but also prevent their color from fading. You'll be rewarded with beautiful floors that are well worth your initial investment.
Increased value – Due to their beauty and longevity, it goes without saying that well-maintained natural hardwood floors can notably increase the value of your home. They're cleaner than carpets, hypoallergenic, and don't emit any potentially toxic fumes. Thus, their value well exceeds even your personal use.
Enhanced style – Another huge advantage of hardwood flooring is the amount of creative control it gives homeowners, even years after they've been installed. Streaks and patterns can be added, and if after a few years, you decide that you'd like a different shade, usually a refinish is all that's needed. Hardwood is also incredibly complimentary to virtually all types of furniture and décor.
Popular Hardwood Options
If you're sold on all of the awesome benefits that you'll gain access to when you opt for hardwood floors, it then becomes a matter of selecting the perfect hardwood species. Here are a few excellent, popular options worth considering:
Oak
This historic option has withstood the test of time in terms of popularity and durability. It usually comes in two choices: red oak and white oak. It's also among the most affordable hardwood options.
Maple
Sporting lighter tones of wood, this option works best in homes with rustic décor and color schemes.
Walnut
This is one of the easiest hardwoods to clean due to its remarkably smooth nature, and it comes in two main varieties: American and Brazilian.
Bamboo
Technically speaking, bamboo isn't a hardwood but rather, a species of grass that's compressed into planks. Due to bamboo's abundance, this is a very eco-friendly flooring option, although it might not be as durable as other alternatives.
Pine
Pine has a very low carbon footprint during production and transportation, making it one of the more sustainable options available. It also is notorious for getting better with age, as its color will change over time.
Cork
Ideal for rooms that need a sound dampener, this type of wood can be cut from a tree several times without harming it, making it surprisingly renewable.
With so many impressive options to choose from and several notable benefits to unlock, making the change to natural hardwood flooring is certain to have you feeling great about the state of your home.
About Prestige Floors
The talented team at Prestige Floors has helped hundreds of homeowners around the Keller, TX area with a wide variety of flooring projects, and they invite you to trust them with your next undertaking! If you have any questions about the article or you'd like to arrange a free in-home estimate, don't hesitate to contact their experts today for further information or assistance. Telephone: (817) 422-5343.