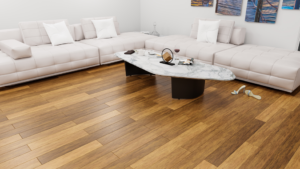 Your floors are an important part of your home, yet sometimes, they're unfairly overlooked and as time passes, you might begin to notice that they don't appear as brand new as they used to. One reason for this is wear and tear; though flooring is usually remarkably durable, it's not entirely impervious to scuffs and marks left by furniture, among other things. Keep reading for some must-know tips that'll help you to protect your floors from various forms of damage and ensure they continue to look great and serve your home well for many years to come, regardless of what type of furniture you have!
Tip #1: Invest in Moving Pads and Carpet Protectors
These are typically used when moving in and out of a home, and they're one of the most necessary items you can have if you're planning on moving heavy pieces of furniture that might damage your floors. You can place these nifty pads underneath the legs of furniture, and they allow you to safely glide objects across your floors. Even if you're moving furniture across carpet, you should still invest in carpet protectors, which are sheets of plastic film that protect your carpet against any possible rips, tears, drag marks, or stains.
Tip #2: Set Out Furniture Pads and Plastic Mats
Also known as chair leg floor protectors and furniture floor protectors, these come in a variety of shapes, sizes, and colors, meaning you can find options that perfectly suit your needs and blend in with your décor. These options aren't as obtrusive as the sheets of plastic film used during moves, making them ideal for long-term use on things that might be prone to unnecessary movement. Consider using them for pieces of furniture that often accommodate people sitting or shifting around, like couches or recliners. They're an absolute game-changer for hardwood floors! By that same logic, placing a rug or mat in an area with high foot traffic or furniture movement can prevent similar damage.
Tip #3: Keep Your Floors Clean & Maintained
This might seem obvious, but keeping your floors clean and well-maintained can also safeguard them from various types of damage associated with furniture. First of all, regularly cleaning your floors provides you with the opportunity to inspect them for previously unnoticed signs of damage—which allows you to then follow up with any necessary repairs. Any present damage to your floors is very likely to worsen if you're carelessly moving or placing furniture around, so be sure that you're diligently inspecting your floors.
About Prestige Floors
Here at Prestige Floors, we've helped countless homeowners in Keller and the surrounding areas with a wide variety of flooring and remodeling projects, and we look forward to assisting you with your next big undertaking! If you have any questions about the blog or you'd like to reach out to schedule a free in-home estimate, don't hesitate to contact us today for additional information or assistance! Telephone: (817) 422-5343.