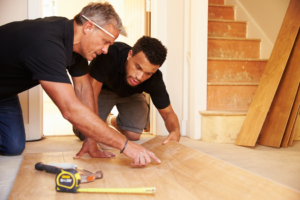 Let's face it; flooring projects are often grand undertakings, and if you and your family are gearing up to revamp the floors of your home, you might feel puzzled about several different things. But this task isn't something that you must tackle alone—a team of flooring professionals can make all the difference in the world when it comes to how your new floors look after they've been installed. With that in mind, here are a few must-ask questions you shouldn't hesitate to ask your flooring professional as you plan out your project.
How Should I Handle Unforeseen Issues That Arise During or After Installation?
If you've seen a home renovation through in the past, you might've experienced a few issues or setbacks that didn't just threaten your results, but also tested your patience. Fortunately, flooring professionals are well-equipped to deal with any type of unforeseen issue that arises while the floor is being installed. And following the completion of the project, they can provide you with the knowledge and means to preserve your floors and help them last; plus, you'll have the peace of mind associated with knowing they're just a call away if a serious problem unfolds.
How Much Flooring Should I Order?
It may seem purely like a sales tactic for flooring professionals to try to persuade you to buy more flooring than you might need, but it's always better to end up with excess materials than to not have enough! The most powerful argument for this is the fact that most rooms have nooks and crannies where cutting and measuring to fit will be necessary. Typically, it's recommended to buy anywhere from 5% to 20% more than you need.
What's the Best Flooring for Homes with Young Children?
If you have children, you probably have concerns about safety, hygiene, and of course, durability, when it comes to installing new floors. In these instances, wood flooring, laminate flooring, and vinyl flooring are solid options that aren't just easy to install—they're notably resilient. Rubber flooring and area rugs can also be used.
Can You Share Reviews or Examples of Your Work?
They say a picture is worth a thousand words, and this is certainly the case with any type of home renovation like a floor remodel. Homeowners always prefer to see how a certain type of flooring will look after it's installed—and it's not exactly feasible to physically preview the intended results. However, true professionals will always be able to provide reviews, testimonials, and examples of their previous work; seeing how another home was transformed can speak volumes about their competence and capabilities.
Of course, you might have other questions on your mind if you're hoping to plan a floor remodel for your home. By trusting a team of professionals with your project, you can rest assured that you're kept in the loop the whole time and able to bear witness to results that you'll love.
About Prestige Floors
The talented team at Prestige Floors has helped hundreds of homeowners in Keller and across the DFW metroplex with a wide variety of flooring projects, and they look forward to helping you with your next great undertaking! If you have any questions about the article or you'd like to get in contact with the team to schedule a free in-home estimate, don't hesitate to contact them today for additional information. Telephone: (817) 422-5343.