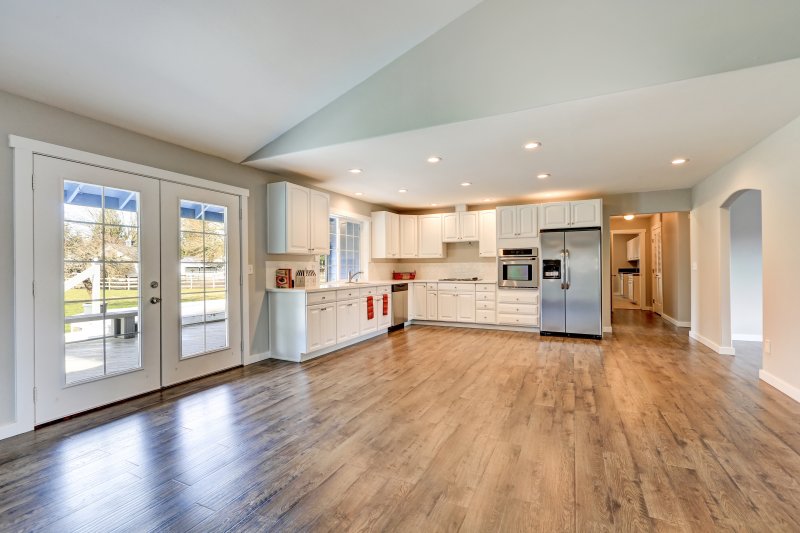 As a homeowner, you may be looking at various flooring options for your upcoming remodel. Desiring the look of real wood, you remember that your budget cannot be fully spent on replacing the floors of your home. Looking at alternative solutions, you stumble upon laminate and discover it is not like it used to be. While it's natural to envision the laminate found in your grandmother's kitchen many years ago, the material used today is far more luxurious and eye-catching. Keep reading to find out why laminate floors are becoming one of the preferred choices for homeowners.
Why Should I Choose Laminate?
Before addressing the question of why, it is important that you understand what laminate flooring is. As a material that mimics the look of real hardwood, it is a much more affordable and highly durable option.
Its versatility in style and placement makes it a desirable choice among homeowners, as you can opt for lighter or darker flooring, and you can choose to have it nailed or glued down or floating above the subfloor.
Many individuals who choose laminate do so because of its customizable design elements, its affordability, and its optimal durability, as it can help to minimize the look of stains and scratches that can form in high-traffic areas.
Where Did Laminate Originate?
Originally, laminate was first discovered in the mid-1980s and was known as Pergo. Used predominately in kitchens, it later became a primary flooring option a decade later throughout Europe and the United States.
As a cheaper alternative to wood and other forms of flooring, it helped individuals stay within budget, but the plastic appearance was far more noticeable.
Several decades later, though, laminate is now more realistic thanks to technological advancements. Now, it is much harder to differentiate between real hardwood and laminate because of the embossed texture. It also absorbs flaws and noise and is proven to be more durable over time.
What Are the Benefits Associated with Laminate?
There are multiple benefits you can expect when choosing laminate, such as:
It looks like real hardwood but without the cost.
It is a highly affordable flooring option, allowing you to stay on budget for your home's remodel.
It is easy to install for any professional.
They are durable against high-traffic areas and flaws that can occur because of pets, children, and sudden spills.
It is comfortable to walk on.
Many individuals also find that when compared to other materials like hardwood or vinyl, laminate is easy to clean and does not sustain as many scratches. It also does not expand like hardwood, so it's unlikely to need replacement should it be exposed to moisture.
Laminate also mimics a more natural wood appearance as opposed to vinyl, and it is far more comfortable beneath your feet. No one wants to walk on uncomfortable floors, so you can expect that laminate will deliver greater cushion over time.
Don't assume hardwood, vinyl, tile, or even stone are your only options when redoing your floors. If you want something that will look natural, feel good, and last for years, stay within your budget and choose laminate.
About the Company
Prestige Floors is a family-owned and operated business based in Keller, TX. The husband-and-wife team Benson and Ashley Kelly have been improving and transforming the homes of Keller residents and its surrounding communities since 2006. Whether you prefer laminate, hardwood, carpet, or one of the many other available options, we are here to help you get the look you desire. If you are interested in replacing your floors or remodeling your home, contact us at (817) 988-2083 to schedule a FREE in-home estimate.