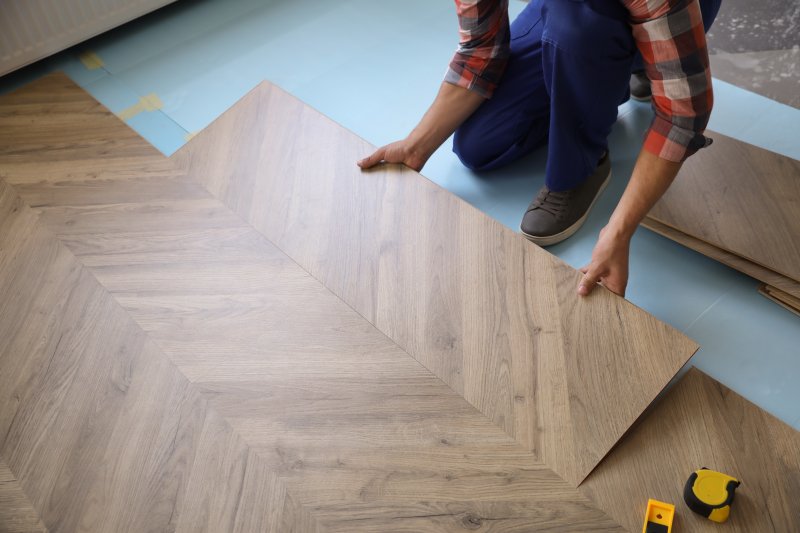 Over the years, laminate flooring has received an unfair reputation for being outdated, old, and tacky. When looking at photos from the past, it's easy to understand why laminate has not been the flooring of choice for many homeowners, but much has changed in recent decades. In this article, we'll discuss how this unique style has evolved and why it is now one of the most popular options to consider when remodeling or building a home.
Laminate Flooring: What Is It?
If you like the look of wood or stone but want to avoid the cost, laminate flooring is a great solution. As a multilayer system, it can be free-floating or simply nailed or glued down to the subfloor. Its natural look and durability make it a popular choice for individuals interested in new floors.
Invented in the 80s by Perstorp AB Holdings, laminate was originally referred to as Pergo and was commonly used in kitchens. Found on countertops mostly, it eventually made its way onto the floors of European homes as well as those in the U.S. in the mid-90s.
The plastic finish, however, was not as appealing or natural in appearance as many thought it would be. But with many advancements in technology, the laminate used today offers a more realistic look and feel.
What Are Its Benefits?
Laminate floors offer unique benefits that many homeowners appreciate, some of which include:
The look and feel of hardwood or stone but without the costly price tag
High-quality materials used for stability and durability
A more affordable flooring option
The installation process is quick and easy when performed by a skilled professional
It's capable of resisting scratches, dents, and stains because of the top coating that is applied
It's quiet to walk on and comfortable underneath your feet
How It Compares to Other Floors
When comparing laminate to other types of flooring, it's important to remember that many choose it because of its realistic look and more affordable price tag. When compared to hardwood, laminate uses composite materials that are more resistant to damage. Hardwood can warp over time if exposed to moisture. It can also show scuffs and scratches if not properly maintained.
When compared to vinyl, laminate is more comfortable to walk on. Although similar in appearance, both materials can be customized based on your desired design and style; however, laminate offers a more realistic look.
Instead of thinking about the past, consider how the laminate of today can give your home's flooring an updated and more beautiful appearance.
About the Company
Prestige Floors is a small, family-owned and operated business based in Keller, TX. Their husband-and-wife team, Benson and Ashley Kelly, have been improving and transforming the homes of Keller residents and its surrounding communities since 2006. With years of experience and an eye for design, their team is trusted, bonded, and offers only the very best flooring for eager homeowners. Whether you prefer laminate, hardwood, carpet, or one of the many other available options, we are here to help you get the look you desire. If you are interested in replacing your floors or remodeling your home, contact us at (817) 988-2083 to schedule a FREE in-home estimate.