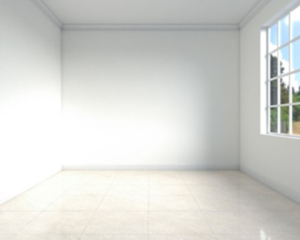 Almost every homeowner dreams of airy, open rooms with plenty of space for you and your loved ones to enjoy! But not everyone has access to the same amount of space, and at times, we have to get a little creative or efficient with how we're utilizing a certain room. But did you know that sometimes, all it takes is the right choice of flooring to make a room look and feel much larger than it actually is? Here are some flooring decisions you can implement in your home to make your living spaces feel bigger.
Tip #1. Follow the "Diagonal Rule"
One of the best ways to make any type of room appear larger is by following the diagonal rule—diagonal lines actually create the illusion of more space! This is because whenever we enter a room, our eyes are drawn to the widest part of the pattern we notice first (this is also true for artwork). So, when you enter a room with lined carpet, slanted hardwood floors, or a diagonal pattern present in the tile, the room might seem considerably bigger than it is.
Tip #2. Contrast Dark Floors with Light Walls
Lighter walls have the tendency to create an airy, open feel within rooms, whether it's a kitchen, bathroom, or living space. Conversely, we tend to associate dark and cozy wall colors with offices, libraries, or study rooms. But did you know that pairing light walls with dark floors can create an incredible contrasting effect that makes a room feel much brighter and wider? This can even make average-height ceilings feel much taller, and this design is so timeless that it can fit virtually any style of interior design!
Tip #3. Opt for Wider Planks
When you're selecting the dimensions for your flooring planks, you should opt for wider cuts—larger planks that stretch your field of view give off the appearance of more square footage. On the other hand, thin or narrow plans lead to many small lines in the flooring pattern, which inevitably give off a more crowded feel. No matter what type of hardwood you're going with—laminate, traditional, or luxury vinyl, be sure that you're going with wider planks—the effect it'll have on your space can make an entire world of difference!
Tip #4. Minimize Grout Usage
The same logic that dictates using wider planks can also be applied to your grout usage when tiling; large, wide tiles make a room feel larger than numerous petite tiles. This is because of all the small lines associated with smaller tile patterns; these can even foster a sense of claustrophobia in some cases, especially if the room is already tiny. By choosing larger tiles with less grout space, you're expanding the lines and by proxy, the perceived size of the room. Pair this technique with the contrast of light walls and dark flooring and you'll feel a noticeable change in the room's atmosphere!
Just because you're working with low square footage does not mean you have to settle for a space that feels smaller; there are several ways you can use your flooring to your advantage and make your living space superficially expand!
About Prestige Floors
Here at Prestige Floors, we're proud to provide residents in Keller and surrounding areas with an exceptional selection of flooring solutions that are certain to enhance your home or project! If you have any questions about the blog, feel free to contact us online or over the phone for additional information or to schedule a free in-home estimate! Telephone: (817) 422-5343.