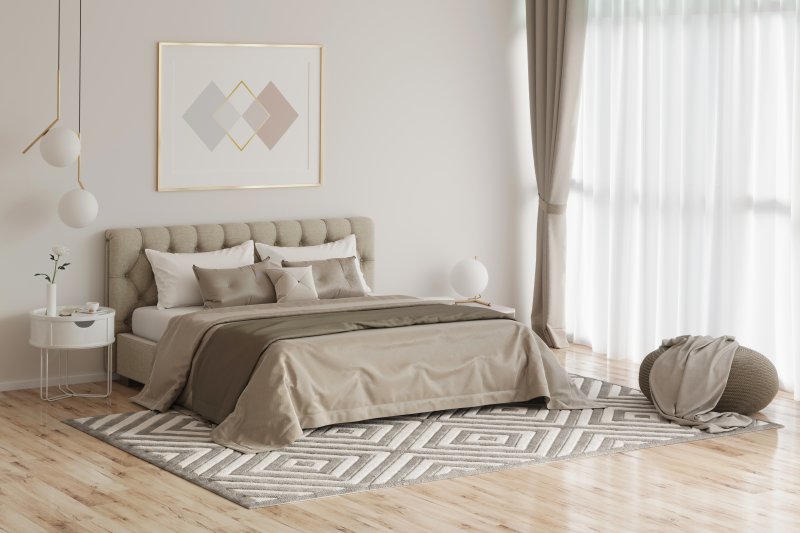 When you first hear the words "checks" and "plaids," your eyes might grow big, and you may think "there's no way that's coming into my house." But if you're looking for a way to add some life to a specific room, you may be surprised just how beautiful it can be to incorporate these materials. In this article, we'll take a look at how using fun and vibrant accents, rugs, and design elements can help breathe new life into an updated home style.
Perk Up Your Space with Plaids
If all you can envision are a mixture of dull colors that look like something out of the 70s, try to wipe the slate clean. These days, plaids come in so many different designs, styles, and shades that there is bound to be something that catches your eye (in a good way). If you have hardwood, laminate, or vinyl floors in your home and want a chic accent to place under your coffee table or bed, try a plaid area rug. You may be surprised, depending on the size of the room, how much more space there seems to be by incorporating larger designs as opposed to smaller ones.
You might also consider adding various décor elements throughout your home that displays a plaid design, such as a headboard on your bed, blankets, pillows, or even window shades.
Create a Chic Style with Checks
In the same way you can use plaids, you can also incorporate checks if you prefer. Although commonly viewed as a retro pattern with images of early 20th century bathrooms coming to mind, the style is quickly becoming one of the hottest 2022 trends.
From bathroom and kitchen floors to backsplashes and décor accent pieces, interior designers are using checks to add a striking appearance to any room. Depending on what you envision your home to look like, you can opt for more subtle checks in the form of uniquely style chairs or light fixtures. And black and white are not the only colors to choose from. Whether you prefer bold shades like red, green, or blue, or a more subdued look with dark checkered wood or beige tiles, a professional can help you choose the one that best matches your new home style.
If you're ready to throw out the old and start 2022 off with a new and improved look, don't underestimate the possibilities of using checks and plaids to update your home's interior design.
About the Company
Prestige Floors is a small, family-owned and operated business based in Keller. As a husband-and-wife team, Benson and Ashley Kelly have been improving and transforming the homes of Keller residents and its surrounding communities since 2006. With years of experience and an eye for design, their team is trusted, bonded, and offers only the very best flooring for eager homeowners. If you are interested in replacing your floors or remodeling your home, contact us at (817) 422-5343 to schedule a FREE in-home estimate.