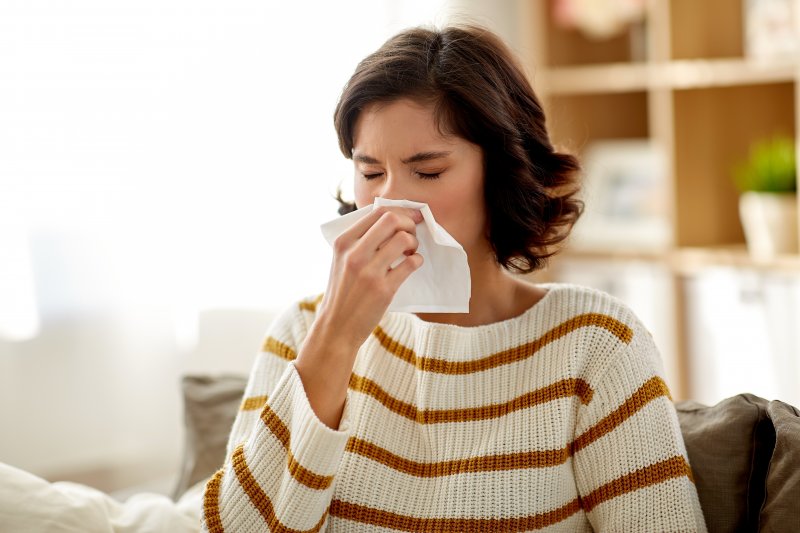 Fall is right around the corner. While millions of people are welcoming the cooler temperatures and decorating with pumpkins, colorful leaves, and embracing "sweater weather," others are struggling to breathe because of the onslaught of allergy season. It's bad enough when you're outside trying to avoid sneezing and coughing, but it can become even worse when you find no reprieve indoors. If you're interested in making some changes to your home so that it is more hypoallergenic and easier on your nose, eyes, and head, here are a few options to consider when preparing to change out your floors.
Why You Shouldn't Ignore Carpet
You might think that incorporating carpet into your home as a way to combat allergies is silly and impossible but don't throw the idea to the side. There are ways to integrate it without requiring you to walk around with a box of tissues by your side.
You can do this by choosing a type of carpet that is hypoallergenic. Those, like wool, trap various airborne particles and are designed with fibers that make it difficult for dust mites and bacteria to settle.
There is also the option of choosing synthetic fibers because they're easy to clean and highly durable, so you won't need to worry about replacing them after only a few years.
Easy Clean Up with Laminate
Another viable option is laminate floors. Designed to look like hardwood, this material is much more affordable and can be crafted to match your unique style and décor.
Comfortable beneath your feet, you'll find that it is easy to walk on, and it's highly durable. No matter how many pets you might have, your floors are less likely to show the scratches they often leave behind. Also, with laminate, the cleanup of pet hair, dander, and spills is easy. With simple vacuuming and mopping, you can eliminate any allergens that might cause your eyes to swell or become red.
No matter which option you choose, making sure that you stay on top of the cleaning that is required to keep your floors looking their best is essential. In doing so, you'll not only be pleased with the aesthetics of your home, but you'll appreciate your ability to breathe easier this time of year.
About the Company
Prestige Floors is a small, family-owned and operated business based in Keller. As a husband-and-wife team, Benson and Ashley Kelly have been improving and transforming the homes of Keller residents and its surrounding communities since 2006. With years of experience and an eye for design, their team is trusted and bonded and offers only the very best flooring for eager homeowners. If you are struggling with allergy season and need help choosing flooring that will allow you to escape the itchy eyes and runny nose, contact us at (817) 422-5343 to schedule a FREE in-home estimate.