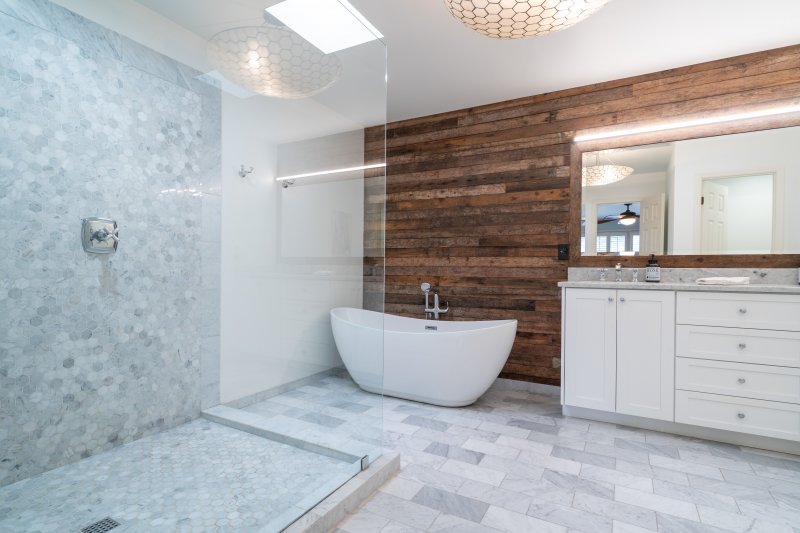 If you're thinking about remodeling your home's bathroom, you may envision a calming, relaxing, and soothing space. Whether you desire to mimic a spa-like atmosphere that channels nature or a more modern, innovative area with the latest gadgets and technologies, the choice is yours. While selecting vanity options, showerheads, and even the types of knobs for your cabinetry, you'll need to identify the type of flooring you want beneath your feet. To assist in narrowing your selection, here are 3 great options to help you get started.
Create a Haven with Stone
Nothing looks more elegant and luxurious than natural stone. Its versatility of use makes it an ideal option for any bathroom remodel. From the floors to the shower, stone can be incorporated into any kind of design.
With an array of options that include everything from marble to granite, you can choose which one best aligns with your design and style. Not to mention, the durability of stone will help you to worry less about frequent replacements over time. Instead, you can enjoy your comfortable and easy-to-maintain floors for years so that you feel as if you have a relaxing spa in your very own home.
Treat Your Feet to Tile
The most popular option for bathroom flooring is tile. Ceramic and porcelain are two excellent options depending on your needs and desires.
Not only is it more affordable than other materials (i.e., stone), it can be customized according to the size, color, and style you choose. No matter if you prefer a sleek, white bathroom or more neutral tones that align with nature, professional craftsmen can create a look that matches what you envision for your home's upgraded bathroom.
And one of the added benefits of tile is that it is easy to clean. Specifically, porcelain floors are water-resistant and highly durable.
Don't Dismiss the Look of Vinyl
This may not be a choice you would normally consider, but vinyl planks can be a great addition to your bathroom simply because they are waterproof.
Because this particular room is home to a shower, toilet, and sink, water is bound to make it to the floor at some point. As a result, you want it to hold up over time. With vinyl plank, you can feel confident that the area beneath your feet will not begin to rot or give way over time, and it's less likely to cause you to slip and fall.
Vinyl is also capable of mimicking the look of stone and even hardwood, so you can achieve a more elegant and upscale look without the added expense.
Your bathroom should be a place where you can step away from the noise and find relaxation. To achieve this level of serenity, choose a type of flooring that will go beyond your expectations and last year after year.
About the Company
Prestige Floors is a small, family-owned and operated business based in Keller, TX. As a husband-and-wife team, Benson and Ashley Kelly have been improving and transforming the homes of Keller residents and its surrounding communities since 2006. With years of experience and an eye for design, their team is trusted and bonded and offers only the very best flooring for eager homeowners. If you are interested in replacing your bathroom floors, contact us at (817) 422-5343 to schedule a FREE in-home estimate.