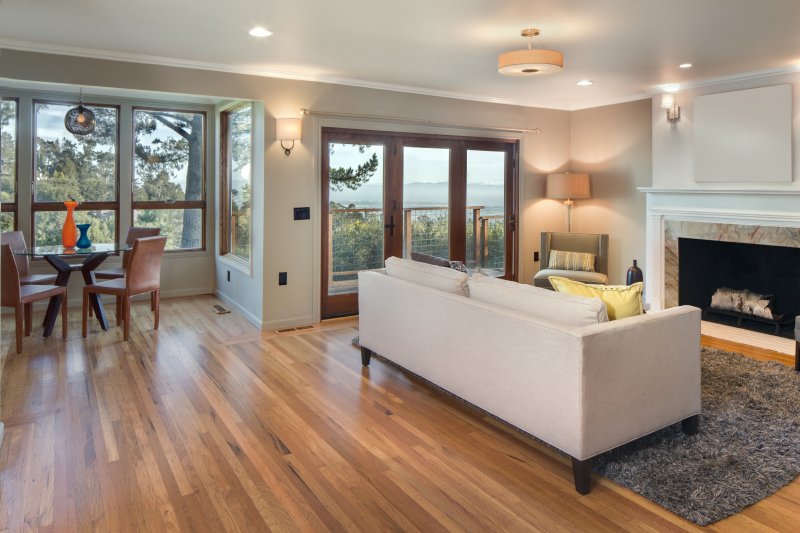 It's not uncommon to want luxurious, beautiful, hardwood floors. Unfortunately, when most people learn how much it will cost to achieve this desired look, they forgo their plan and continue to live with the undesirable flooring in their home. If you find yourself in this similar scenario, you'll be pleased to learn there are many other alternative options that look just like hardwood but are much less expensive and offer great durability. Read on to find out which types of flooring will give you the same great look without forcing you to empty your savings.
Trick Your Guests with Vinyl
The moment guests enter your home, don't be surprised if they're in awe of your beautiful floors. What looks like hardwood will actually be vinyl. Instead of relying on numerous cleaning products to keep natural wood clean and treated, vinyl allows for easy maintenance because of its durability and stain-resistant material. Spill water on the floor? Not to worry! Unlike hardwood that can expand when exposed to water, vinyl will not. It is also an ideal type of flooring if you have pets or little ones constantly running around because it won't leave behind traces of scratches and scuffs!
Create a Wood-Like Look with Tile
Tile? Can tile actually look like wood? While you may only be able to envision the pristine white porcelain that is often found in bathrooms, the truth is that tile can be extremely versatile and customized to match your vision. If you prefer your kitchen floors to match those in your living room and other areas of your home, wood-like tile is a great way to accomplish this task. Known for its heat, water, and humidity resistance, it is great for spills. Not to mention, it's easy to clean, durable, and a much cheaper solution than traditional hardwood.
Look the Part with Laminate
"What beautiful floors you have! I'd just love hardwood in our home." If this statement sounds familiar, it's because you've successfully tricked your guests into believing you have the most expensive and luxurious floors money can buy. In reality, they're laminate! Unlike the lackluster and off-putting designs found in homes 30-40 years ago, nowadays, this material can be customized to look modern and elegant. Unlike solid wood floors that come from an individual piece of lumber and are 100% wood, laminate is made of composite wood and is highly durable, resistant to stains, and won't expand when exposed to water or humidity.
Change It Up with a Different Type of Hardwood
Instead of emptying your wallet for the real deal, why not consider engineered hardwood. With a top and base made up of 100% wood, the inner layers are made of composite and offer greater durability and resistance to water and heat. This means it is great for every room in your house and is customizable according to what you want for your home.
Speaking with a trusted flooring specialist will help you to achieve the desired look you want without the added cost. Consider alternative options and watch your home be the envy of others.
About the Company
Prestige Floors is a small, family-owned and operated business based in Keller. As a husband-and-wife team, Benson and Ashley Kelly have been improving and transforming the homes of Keller residents and its surrounding communities since 2006. With years of experience and an eye for design, their team is trusted, bonded, and offers only the very best flooring for eager homeowners. If you are interested in replacing your floors or remodeling your home, contact us at (817) 422-5343 to schedule a FREE in-home estimate.