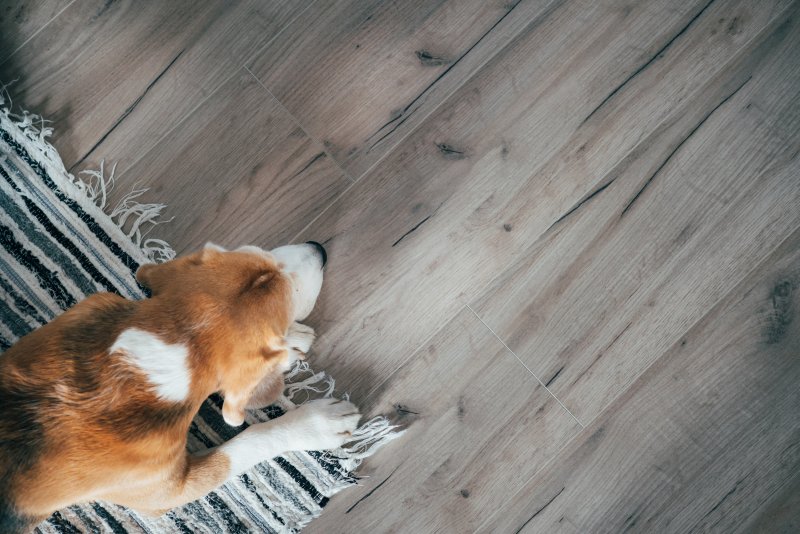 A dog is a man's best friend. They are loyal, caring, and provide unconditional love, but they can also wreak havoc on the flooring in your home. From dirt and debris they can track in from the outdoors to the scratches left behind from their nails, you may be thinking about updating your home to ensure it is dog-proofed. To help you in this endeavor, here are 3 of the best styles of flooring that will ensure your four-legged friend doesn't ruin your investment.
You Can't Go Wrong with Vinyl
Vinyl floors offer luxury, convenience, and an ideal way to safeguard against the wear and tear produced by your dog(s). No matter where you plan to remodel your home, this style of flooring is a great choice because of its ability to stand up to high traffic, water and stains, and heavy-duty furniture. Not to mention, it looks expensive but doesn't carry the same price tag as traditional stone or hardwood. Also, because it comes in many different patterns, you can choose an option that will easily conceal scratches or scuffs your furry friend might accidentally cause.
Stone Offers Sleek and Optimal Protection
Whether it is marble, granite, slate, or travertine that you prefer, stone is one of the additional styles to consider when you have dogs in your home. Because of its sleek design and luxurious feel, you can still impress others who come to visit, but you'll also enjoy a floor that is scratch-resistant and isn't ruined by water and other spills. And should man's best friend leave behind a dirty floor, clean-up is a breeze with stone.
Hardwood Can Be Great for Scratches
Surprisingly, hardwood is a fairly good option to choose when living with pets. Because they come in various species of wood, some harder woods will hold up better to scratches and dents left behind by your dog. If you choose a species that has a unique grain pattern, it can help to minimize the look of any small flaws it endures as a result of your canine. Also, hardwood can be easy to clean, especially if your furry friend tends to shed a lot.
When choosing the right flooring for your home, remember to consider the cost, maintenance, and ability to withstand what your dog delivers. Doing your research and talking to a licensed professional can help you narrow your choices and select the best floors for you and your furry friends. By relying on an expert to help you through the process, you can also learn the best tricks for keeping your home and its floors looking their best.
About the Company
Prestige Floors is a small, family-owned and operated business based in Keller. As a husband-and-wife team, Benson and Ashley Kelly have been improving and transforming the homes of Keller residents and its surrounding communities since 2006. With years of experience and an eye for design, their team is trusted, bonded, and offers only the very best flooring for eager homeowners. If you are interested in replacing your floors or remodeling your home, contact us at (817) 422-5343 to schedule a FREE in-home estimate.