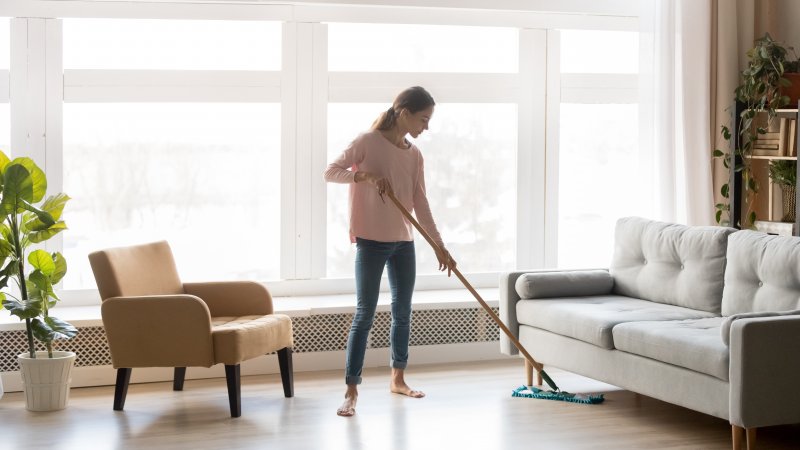 No one wants to spend long, arduous hours cleaning their floors. Between busy work schedules, rushing the kids to practice, cooking dinner for your family, and finding time to wash and fold the laundry, the last thing on your mind is getting that stain out of your carpet. After all, it's a lost cause, right? Fortunately, it doesn't have to be, and with the right type of floors, clean-up can be a breeze! Read on to learn which type of flooring will have you spending less time scrubbing and more time with the ones you love.
Tile Makes it Easy
If you know much about tile floors, you understand why they are the most likely option for kitchens and bathrooms. Not only do they create a clean and sleek look, but they're extremely easy to clean? Spill a beverage? Drop a pan of lasagna? With a wipe of a dish towel and a few swipes from the mop, your floors look as good as new. The only time you'll need to be concerned about scrubbing is if you allow stains to set in over time, but if you're on top of it the minute it happens, cleaning will be a breeze.
Hardwood Isn't That Hard
When it comes to hardwood, you need special cleaners, right? Maybe, but if you really want to make life easier, all you'll require is a dry mop and vacuum. Pet dander, dirt, and dust are commonly found on hardwood floors, but the good news is that many of the companies who specialize in wood flooring use natural materials that prevent common allergens and are less likely to sustain scratches, scruffs, and stains. By regularly going over your hardwood with a duster or vacuum, you can pick up these remnants before giving your floors a quick sweep with a dry mop to keep them looking their best.
Carpet Can Be a Cinch
Constantly telling your kids to keep their colorful beverages in the kitchen for fear they'll spill them on your carpet? Tired of the dog running inside with mud on its feet, only to track it across the living room floor? Carpet doesn't have to be a pain to clean. It can actually be quite easy. The important thing to remember is that vacuuming is a game-changer and will need to be done regularly, especially in high-traffic areas. With many options providing a more stain-resistant material, you can also feel more confident should a spill occur.
Laminate Allows for Low-Maintenance
When it comes to laminate floors, make sure you have a dust mop nearby. Regular sweeping and mopping will help you keep them looking beautiful. Consider extremely durable and more resistant to water than hardwood, it is best to use dry solutions or a laminate-approved cleaner to address scruffs or stains.
Vinyl Offers Quick Clean-Up
Vinyl floors can not only look like hardwood or real stone, but they are far more affordable and extremely easy to clean. You won't have to spend time down on your hands and knees with a toothbrush to keep these floors looking tip-top. Instead, the use of a vacuum, broom, and mop can reduce the amount of time you spend cleaning, allowing you to enjoy the rest of your day relaxing. And the best part about vinyl is you'll never have to refinish it!
Cleaning your floors doesn't have to be an all-day affair. By choosing the right materials from the start, you can worry less about the mess and start enjoying your weekends once again.
About the Company
Prestige Floors is a small, family-owned and operated business based in Keller, TX. As a husband-and-wife team, Benson and Ashley Kelly have been improving and transforming the homes of Keller residents and its surrounding communities since 2006. With years of experience and an eye for design, their team is trusted, bonded, and offers only the very best flooring for eager homeowners. If you are interested in replacing your floors or remodeling your home, contact us at (817) 422-5343 to schedule a FREE in-home estimate.