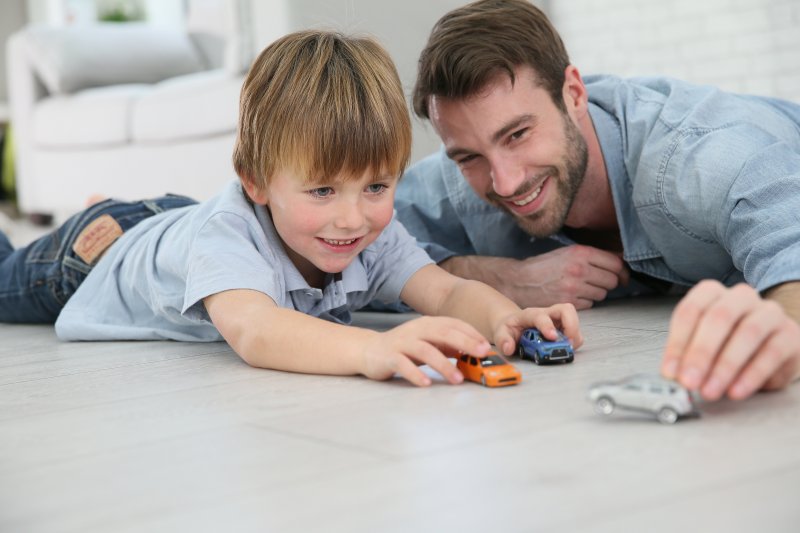 As a parent, you enjoy the times spent with your child playing with toy cars, engaging in hide and seek, and even sitting down to watch their favorite movie. But when spills and messes are left by these tiny humans, you may feel as if you're doomed to live with stained floors until they leave for college. Fortunately, it doesn't have to be that way. The truth is that when it comes to flooring, there are options that stand up much better to the chaotic and often messy lifestyle that kids can create. Read on to find out which floors will be best for your busy home.
Budget-Friendly Vinyl or Laminate
You want kid-friendly flooring, but you're on a budget and don't know where to start. With vinyl or laminate floors, you can't go wrong. Not only are they capable of providing you with the same great look of hardwood, but they are significantly more affordable. Both vinyl and laminate are durable, waterproof, and scratch-resistant, making them a great option for parents with active toddlers, children, and teens. The wear and tear you might see with other types of flooring will be less likely to show, and clean-up is a breeze because spills and messes can be easily wiped away.
The Beauty of Hardwood
Who says you can't have kids and hardwood in the same house? If the elegance and beauty of natural wood floors are what you desire for your home, there are plenty of options available that will make living with energy-fueled children or athletic teens. While spills may be less of a concern, you may wonder if scratches brought on by tap shoes, soccer cleats, or indoor hoverboards will leave your floors damaged. Fortunately, hardwood floors can be made using scratch-resistant and even waterproof materials that are highly durable and an ideal choice for even the busiest homes.
Comfortable, Stain-Resistant Carpet
Not only is carpet an affordable option these days, but it's also known for its comfort and appeal. Not to mention its ability to stand up to high-trafficked areas that can often leave spills and stains behind. If you have little ones in your home, stain-resistant, durable carpet can give you the look you desire without feeling as if you'll never have clean floors again. By working with a professional who can help you choose the right type of carpet for your home, you can feel more confident that your child has a safe place to play, and you can stress-less when it comes to cleaning up after your on-the-go little ones.
Just because you have kids doesn't mean you can enjoy beautiful flooring in your home. Instead, look for options that are easy to clean and stand up to the challenges brought on by kids and teens.
About the Company
Prestige Floors is a small, family-owned and operated business based in Keller, TX. As a husband-and-wife team, Benson and Ashley Kelly have been improving and transforming the homes of Keller residents and its surrounding communities since 2006. By providing the best flooring for current homeowners, they are a trusted professional who stands behind their product. If you are interested in replacing your floors or remodeling your home, contact us at (817) 988-2083 to schedule a FREE in-home estimate.