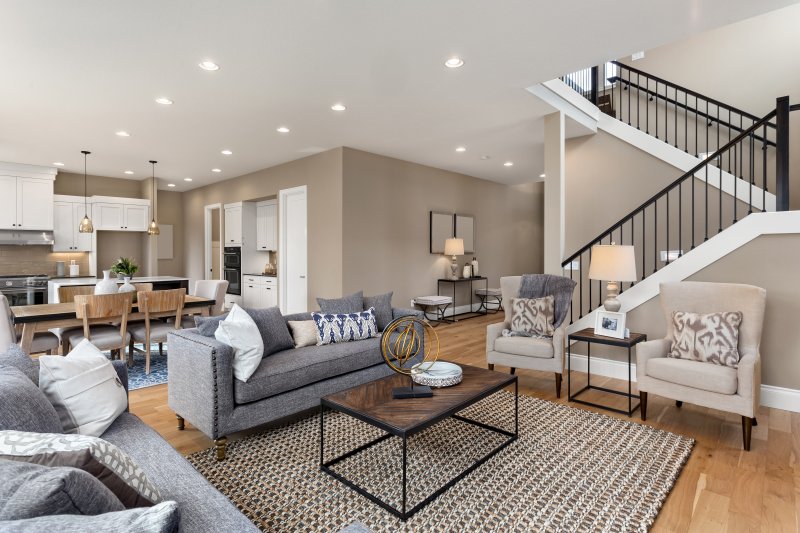 If your home to appear roomier but are working with smaller spaces that feels cramped, it's time to make a change. And we don't necessarily mean going out and buying a new house. Instead, you can revamp these tiny spaces to make them feel bigger. How? Whether you're shopping for new floors or planning to renovate a particular room in your home, choosing the right type of flooring can make any area feel larger than it actually is. Read on to learn what styles, patterns, and materials can help you maximize the space in any room.
Try a Different Pattern
Many flooring options today are customizable, allowing you to choose the color, style, and pattern that is right for you and your home's aesthetic. A helpful tip a professional might offer is to consider diagonals. Not only do they draw the eye to the widest part of the pattern, but they establish movement and make rooms appear larger than they are. From kitchens and bedrooms to offices and bathrooms, diagonals are a great way to increase the space in your home.
Consider Your Walls
Are the floors and walls of your home dark? If so, you can expect the room to feel much smaller. But if changing your floors isn't an option, consider lightening the color of your walls, as this works to create a sense of space. No matter if you have hardwood, tile, or darker vinyl floors, a lighter wall can breathe new life into a room and help you feel less cramped.
Bigger is Better
Tiny spaces that contain thin planks, whether hardwood, vinyl, or laminate, will only cause a room to appear smaller. If you want to open it up and make guests feel more welcome, try installing larger wood planks. Why? Similar to diagonals, they force the eye to move and stretch, thus, elongating the room and making it appear larger.
Don't Bother with Grout
Grout creates a border around your floors. When using tile, this added reinforcement causes the eye to jump quickly from one area to another, causing a room to feel crowded. Instead, nix the grout and opt for larger tiles that will have the room appear less busy and more relaxing.
Not everyone has the means to live in a large home, so if you're one of the many who want to find ways to make your small spaces appear larger, talk to a professional about what changes you can make to your flooring. After all, making a simple change to your floors is far cheaper than picking up and moving!
About the Company Prestige Floors is a small, family-owned and operated business based in Keller, TX. Their husband-and-wife team, Benson and Ashley Kelly, have been improving and transforming the homes of Keller residents and its surrounding communities since 2006. With years of experience and an eye for design, their team is trusted, bonded, and offer only the very best flooring for eager homeowners. If you are interested in replacing your floors or remodeling your home, contact us at (817) 988-2083 to schedule a