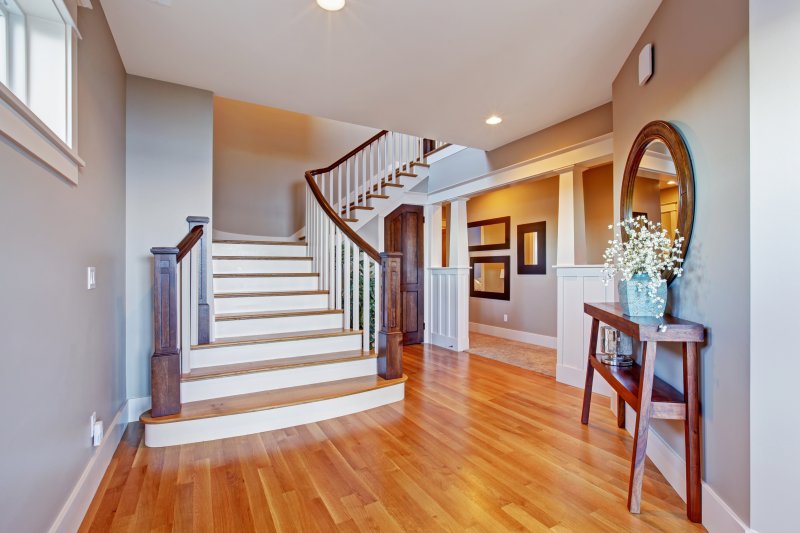 "Should I go with dark-colored hardwood or light?" "Do I want my space to appear more open or private and intimate?" These are common questions you might ask yourself when preparing to remodel a particular room in your home. The right type of flooring as well as its color can make a big difference in how an area looks, feels, and is perceived by others. If you're struggling to identify which shade will look best for your hardwood floors, read on.
The Versatility of Hardwood
It's the type of flooring everyone wants but many feel they cannot afford. Wood floors create elegance, beauty, sophistication while also allowing for durability and longevity. But its color can convey one of two things: a sense of openness or privacy. Here is what we mean:
Dark Flooring
Choosing to lay down dark-colored hardwood floors in a particular room will not only create a cozy and personal space, but it also tends to scream formal. It will require you to incorporate lighter accents and furniture to keep the room from appearing too dark or "gloomy" but is often a preferred choice of potential homebuyers. An important factor to consider before choosing your desired shade is that darker colors often show more imperfections. If you have pets, you can expect scratches, dust, and pet dander to be more evident.
Lighter Flooring
Maybe you have a space in your home that you want to be inviting, open, and causal. Whether it is a place to relax or entertain others, a lighter-colored hardwood can create a sense of space even if the room itself is small. Unlike dark wood that can immediately attract the eye, softer, more casual colors can shift the attention to other focal points in the room. Not to mention, it's less likely that someone will notice any imperfections because of the ability to mask dust and scratches more easily.
How Do I Know Which One is Right for My Home?
Still feel undecided about which color you want for your hardwood floors? You're not alone. But there is a way to come to an ultimate decision. You must first ask yourself what you want this particular space to be. You must then identify what the overall vision is for this room. There is no wrong answer when choosing what your design style will be, but if you're worried that you'll make the incorrect choice, you can always opt for a happy medium. Warm browns and antique flooring are capable of maintaining a look that blends with most trends, making it easier for you to simply adjust your furniture and/or accent pieces to revamp a room within your home.
As you consider your options and discover how much upkeep you are prepared to take on, don't be afraid to talk to a professional. Their expertise and advice can help you better identify which style of flooring and color best fits your room's needs.
About the Company
Prestige Floors is a small, family-owned and operated business based in Keller. As a husband-and-wife team, Benson and Ashley Kelly have been improving and transforming the homes of Keller residents and its surrounding communities since 2006. With years of experience and an eye for design, their team is trusted, bonded, and offers only the very best flooring for eager homeowners. If you are interested in replacing your floors or remodeling your home, contact us at (817) 422-5343 to schedule a FREE in-home estimate.