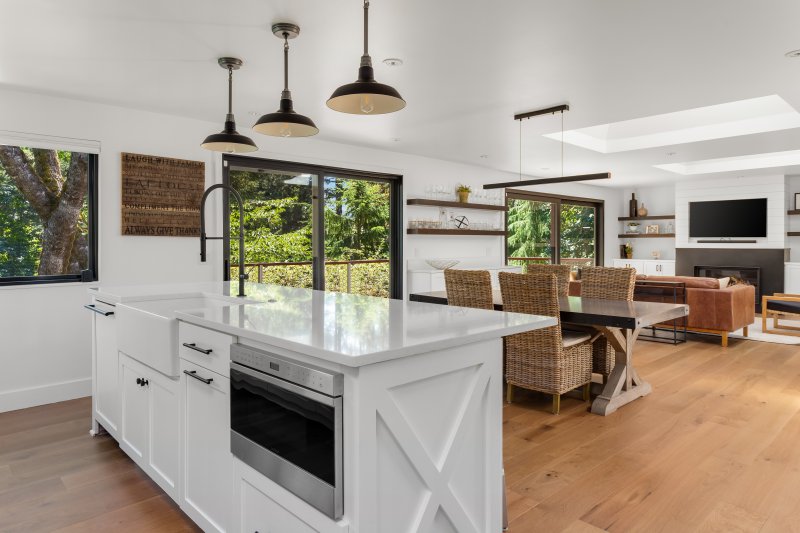 It seems that nowadays, most people are looking to create an open concept in their homes. Allowing one room to flow into another is popular among homebuyers and homeowners but making sure the flooring works to match the overall design can be tricky. Fortunately, with the help of a licensed professional, this task doesn't have to be as overwhelming as it might seem. Before you begin your remodel, consider the following components that will ensure your home's floors blend in with your unique vision.
Consider the Material of Your Floors
Whether you live in a small apartment or a 3,000-square-foot home, you'll want to make sure the flooring material works well with your open concept. In other words, they must be able to bring something to the table and match the look of the room. Because these tend to be larger spaces (i.e., kitchen and living room, etc.), hardwood, laminate, or tile are great options. The use of longer planks or those that are larger can help to bring together an open concept that leaves your guests wondering how you managed to bring such cohesiveness between the multiple areas.
Envision the Flow From Room to Room
When attempting to bring two rooms together, you must envision how the floors, décor, and overall aesthetics will flow naturally. The last thing you want is for there to be a clear divide between the two rooms. After all, you might as well put up a wall if that's where your mind is. Whether you choose tile, hardwood, or carpet for your open concept, make sure you're using only one material, as moving from hardwood to tile or carpet to laminate can create a choppy effect and destroy your overall look.
Think About How to Transition From One Room to Another
The kitchen and living room are great examples of how you really want to think about how these two areas transition. If you have hardwood in the living room but want tile in your kitchen, you need to identify a color and material that have the same undertones and look to avoid a broken or uneven appearance. With so many shades and styles available these days, a professional can easily help you find the right material that will create a seamless transition from one room to another.
Don't Forget the Color
Color is key when choosing the right floors for an open concept. Neutral shades are best, as they can work and compete with all types of décors. They also help to make the room appear larger than it might actually be. Darker floors can make a space feel smaller, less open, so make sure you keep it open and airy to keep your guests from feeling as if they're cramped during their visit.
Achieving an open concept doesn't have to be hard. You simply need the right professionals who have an eye for what works, what doesn't, and how it can easily be achieved (affordably). Let an expert help you pick out the right flooring for your home's remodel and prepare to love what you see.
About the Company Prestige Floors is a small, family-owned and operated business based in Keller. As a husband-and-wife team, Benson and Ashley Kelly have been improving and transforming the homes of Keller residents and its surrounding communities since 2006. With years of experience and an eye for design, their team is trusted, bonded, and offers only the very best flooring for eager homeowners. If you are interested in replacing your floors or remodeling your home, contact us at (817) 422-5343 to schedule a FREE in-home estimate.