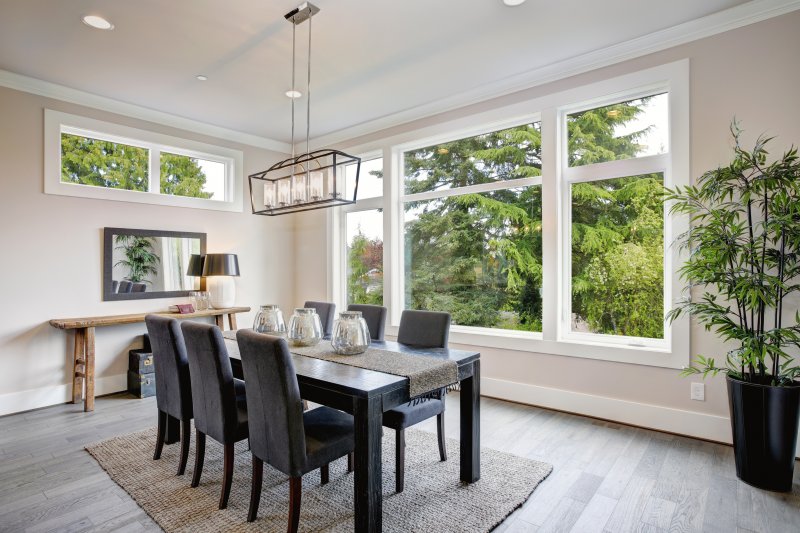 Are you an entertainer? Do you enjoy a good sit-down meal with your family each night? Whether your dining room gets a lot of foot traffic, or you use it only for holidays and get-togethers, choosing the right flooring is important. If you're thinking about updating this room of your home, consider these three options to create a more sustainable, inviting, and cohesive look that will capture the eye of your guests.
You Can't Go Wrong with Hardwood
Timeless, versatile, and elegant are just three words commonly used to describe hardwood floors. No matter the color or design you choose, this type of material looks great in any home, especially in dining rooms. Not only is it a more luxurious floor type, but it creates a more attractive and inviting look that captures the attention of others for all the right reasons. When working with a professional, you can be sure that it will blend in beautifully with your existing décor and be easy to clean and maintain over the years. Not only do you not need to worry about spills and stains showing, but with the right products and upkeep, you can rest assured foot traffic won't dull your floors.
Let Laminate Lead the Eye
If you're an entertainer and find that your dining room gets a lot of movement, you may want to consider a more durable type of flooring like laminate. Known for its resilience, it is more affordable than traditional hardwood, and it is resistant to stains and water. This is great news if you are regularly pouring wine or serving up your famous homemade spaghetti red sauce. Even the busy feet of kids and pets don't stand a chance. Because it is easy to maintain, you can feel more confident in your choice to go with laminate.
Minimal Maintenance with Tile
You might think tile is only possible in kitchens and bathrooms, but that is no longer the case. Now, its versatile style options and colors make it a viable option for the dining room! Because it can be made to look like stone, marble, or even wood, guests will be shocked by its appearance and feel. And if you accidentally spill some food or a beverage during your meal, there's no need to worry because it is easy to clean.
Whether your dining room is one of the more popular rooms in your home or is used sparingly throughout the year, choosing the right floor with the help of a trusted professional will ensure it maintains its visual appeal no matter the occasion.
About the Company
Prestige Floors is a small, family-owned and operated business based in Keller, TX. Their husband-and-wife team, Benson and Ashley Kelly, has been improving and transforming the homes of Keller residents and its surrounding communities since 2006. With years of experience and an eye for design, their team is trusted, bonded, and offers only the very best flooring for eager homeowners. If you are interested in redesigning your dining room or another area of your home, contact us at (817) 988-2083 to schedule a FREE in-home estimate.