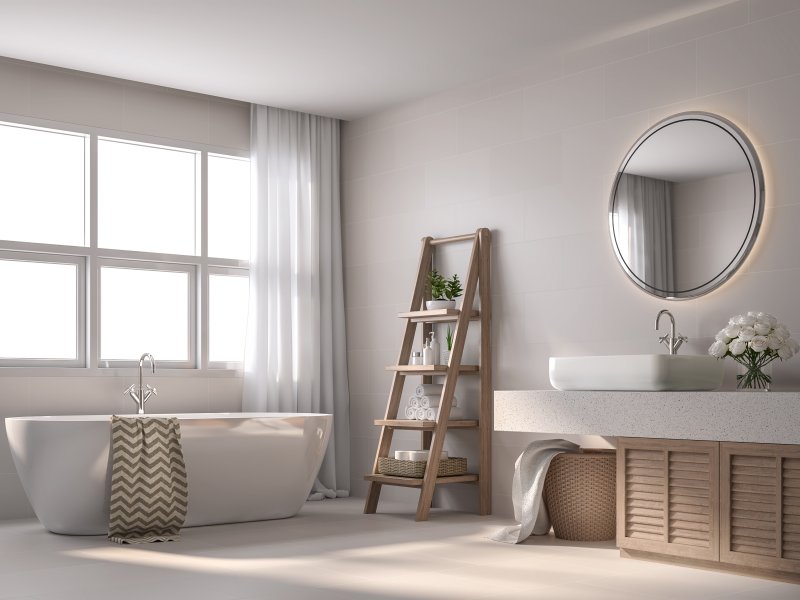 It's a new year, which means it's time to spruce up your home. But maybe you're not sure where you should start. Before you start looking around to see if new paint or décor is what you need, consider if your flooring might be the reason for your dismay. If you're tired of the dark colors, why not consider replacing them with lighter ones? With 2022 bringing a host of new interior design trends, you can change the way your house looks and feels just by brightening up these spaces with these three new floor designs. Read on to learn more.
Creating a Contemporary Feel with Luxury Vinyl
If you want to feel as if you're entering into an upscale spa, trade out the old tile in your bathroom for luxury vinyl. Not only is it waterproof, but it can deter scratches and scuffs, which is great for other highly trafficked areas in your home.
Combine these lighter, white-oak, vinyl floors with whites, grays, and other neutral colors, and you'll impress everyone who walks through your doors. They, too, might feel as if they're receiving VIP treatment when visiting.
Save Your Feet with Soft Carpeting
If the idea of walking on hardwood, vinyl, or laminate doesn't sound appealing, consider a lighter carpet for your living room, bedrooms, and offices. Not only is it soft to walk on, but it creates a cozy atmosphere that can make for a more enjoyable experience when you're dealing with cold temperatures outside.
And if you're worried about stains, don't be! The materials used today make it possible to have carpet that is stain- and fade-resistant and doesn't give way when positioned in highly trafficked areas. You can now enjoy lush, beautiful, light-colored carpet without worrying about the potential damage commonly caused by dirt and debris.
Stylize Your Home with Beautiful Hardwood
If you love your current wood floors but prefer a lighter shade, opt for engineered hardwood. Why? Not only does it stand up to the messes that come with kids and pets, but it is also great when it comes to combatting humidity. In fact, it is actually better than traditional hardwood in that respect.
With a variety of shades and patterns available, you can have it laid in your kitchen, living room, bedrooms, or any other areas of your home. Instead of it being made from one piece of wood, the lower layers consist of composite materials while only the top layer is traditional hardwood. This not only creates an elegant appearance but underneath, it is quite resilient and durable, making for an ideal flooring option.
Take advantage of the new year by getting rid of the old and embracing the new. By incorporating brighter, lighter floors throughout your home, it will truly feel like a fresh start.
About the Company
Prestige Floors is a small, family-owned and operated business based in Keller. As a husband-and-wife team, Benson and Ashley Kelly have been improving and transforming the homes of Keller residents and its surrounding communities since 2006. With years of experience and an eye for design, their team is trusted, bonded, and offers only the very best flooring for eager homeowners. If you are interested in replacing your floors or remodeling your home, contact us at (817) 422-5343 to schedule a FREE in-home estimate.