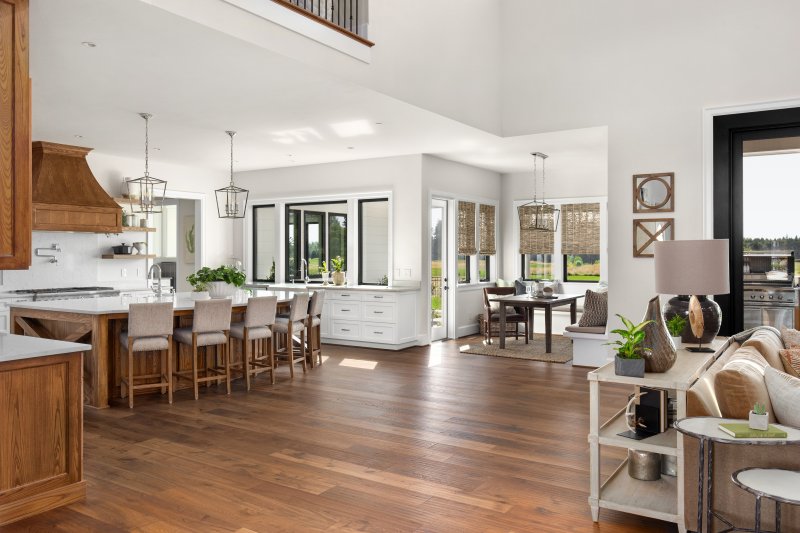 Whether you live in a tropical or humid part of the country, or you find yourself surrounded by dry, cool air year-round, you should be mindful of your floor type before attempting to remodel your home. Choosing the right materials can save you lots of time and money in the long run, especially since certain ones can either thrive or deteriorate quickly depending on the climate. Read on to discover how the most popular flooring options hold up to different environmental factors.
How Climate Impacts Flooring
Depending on the area of the country you live in, and the type of climate, it can make a big difference in how long your new floors will last. Temperatures and humidity levels can determine whether expansion will occur, edges will curl, or cracking or peeling will leave you with damaged areas of your home.
Finding a trusted professional who can explain (and show you) the best types of flooring for your home will ensure you don't spend thousands of dollars updating these spaces only to need replacements a few years from now.
What It Does to Each Type of Floor
To help you become a bit more familiar with the different flooring types and their ability to hold up under certain climate conditions, here is a brief breakdown to get you started:
Tile – This type of material is great for hot and cold climates. Not only is it highly durable, but it's also easy to clean. It can keep homes cool in the summertime but purchasing a rug can help keep feet a bit warmer during those cold, winter months. You should be mindful, however, of the potential for cracks should natural disasters (i.e., earthquakes) be a common occurrence in your area.
Vinyl – No matter the style you choose, this material is great for colder climates because it doesn't expand or contract. Easy to clean, durable, and customizable, it is also pleasant to walk on because it is warmer than tile.
Carpet – Similar to tile, it's great for hot and cold climates. Its ability to keep your feet warm during the winter makes it a cozy and comfortable option, but you should know that if you live in a wetter climate, there's a good chance you'll need to more frequently maintain your carpet because of the increased chances of moisture retention.
Hardwood – Extreme, dry, humid climates are not ideal for hardwood floors. Why? Because they can expand, crack, and peel. However, if you work with a trusted professional, you will find there are ways to minimize this risk by using specialized sealants or choosing a specific type of wood that works better for the climate you live in.
Laminate – Ideal if you want to keep your feet warmer in cooler climates, but you'll need to be careful not to let much moisture in, especially if you live in a wetter part of the country. Too much water can lead to expansion that can warp the flooring, requiring replacement.
Now that you know a bit more about how certain floors handle the pressures of climate, you can feel more confident deciding which one works best for your home.
About the Company
Prestige Floors is a small, family-owned and operated business based in Keller. As a husband-and-wife team, Benson and Ashley Kelly have been improving and transforming the homes of Keller residents and its surrounding communities since 2006. With years of experience and an eye for design, their team is trusted, bonded, and offers only the very best flooring for eager homeowners. If you are interested in replacing your floors or remodeling your home, contact us at (817) 422-5343 to schedule a FREE in-home estimate.