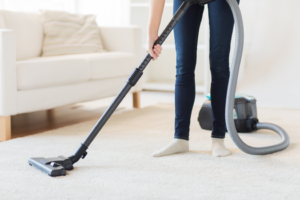 If you're thinking about purchasing carpet flooring for your home, you've probably got a lot of questions in mind. After all, you've maybe heard quite a few different things through the grapevine about carpet flooring, including that it's harder to clean, it's not environmentally friendly, and it's a major hassle to install. All of this might make you wonder if the investment is even worth it in the first place—and your trusted team of flooring professionals is here to tell you that yes, it absolutely is! Here are a few of the most common myths about carpets, debunked, so that you can confidently commit to improving your home!
Myth #1: Carpet Flooring Is Hard to Clean
For many of us, cleaning isn't the most exciting activity in the world; it takes time, energy, and sometimes even money to keep your house in great shape. And floorspace is often the largest thing that needs to be cleaned within a home, so it's reasonable to deduce that carpet flooring is difficult to maintain. But this isn't the case at all—modern carpets are quite easy to keep intact. You simply need to vacuum them weekly and do an annual deep cleaning.
Myth #2. Carpets Are Worse for Individuals with Allergies & Asthma
People often believe that carpets are worse for individuals with asthma or allergies, but research proves otherwise. Studies show that as long as carpets are cleaned regularly, they don't threaten those affected by respiratory conditions. In fact, carpets can even trap allergen-causing particles and stop them from becoming airborne!
Myth #3. Carpet Flooring Isn't Environmentally Friendly
Advancements in the carpet industry have led to great strides in not only quality and sustainability, but also a focus on carpets being environmentally conscientious. While the materials themselves have undergone alterations to emphasize eco-friendliness, carpet manufacturers have also decreased the amount of water and energy used to create carpets, in addition to using more recycled materials. Furthermore, carpet flooring equates to you having to use less heat during the winter to warm your home!
Myth #4. Installing Carpet Flooring Is Inconvenient
Installing any type of flooring plan can seem inconvenient, especially if you've selected carpet—but with a little research and proper preparation, the installation process is relatively straightforward and stress-free. You should do your homework and look up different types of carpets, consult guides and other resources, and trust a skilled team of professionals to assist you with the process.
About Prestige Floors
Prestige Floors has assisted countless homeowners around the Keller area with a wide variety of customized flooring projects, and they'd love to help you with your next undertaking! If you have any questions about the blog or you'd like to set up a FREE in-home estimate, don't hesitate to contact them today to get the ball rolling. Telephone: (817) 422-5343.