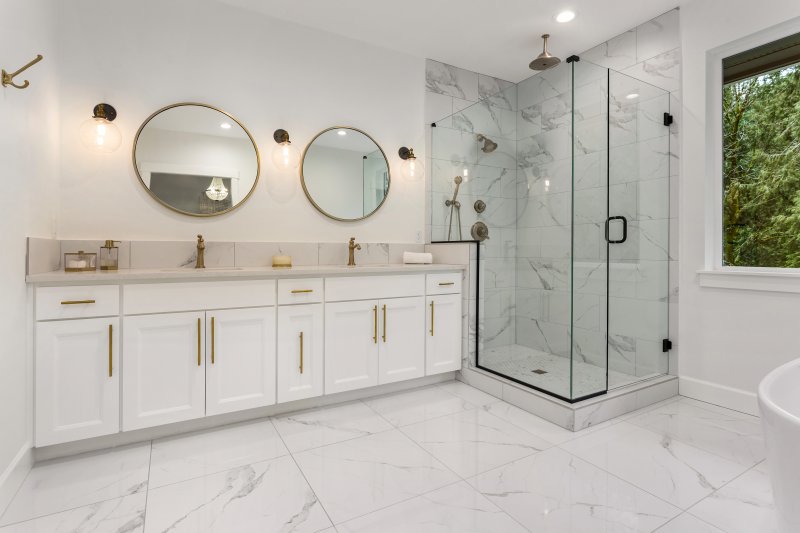 Are you tired of your bathroom floors looking bland and dull? If you're considering a remodel, you'll be pleased to know there are many great ways you can change up the look of your powder room while continuing to maintain an easy-to-clean environment. If you're ready to learn what alterations you can make to your bathroom flooring, here are 4 unique tips to consider.
Natural Stone Flooring
Does the idea of granite, travertine, slate, or marble beneath your feet sound fresh and relaxing? If so, you can achieve a more natural look by using natural stone flooring. Depending on the type you choose, you can achieve a sleek appearance that is non-slip (slate) and durable (granite). When it comes to using natural stone for your flooring, you'll discover the room exudes a spa-like feel that allows for improved relaxation and tranquility while maintaining high sophistication. You might even be surprised by the potential resale value of your home should you choose to remodel using natural stone.
Vinyl Flooring
This may be a surprise, but vinyl flooring is an excellent choice to consider for your bathroom remodel. Not only is it waterproof, which is essential if laid in this particular room of the house, but it's also a much cheaper option than hardwood or other pricier flooring options. Another unique benefit of vinyl flooring is that it's more slip-resistant than tile and doesn't send a cold chill up your body when you step on it. Instead, it provides a level of warmth that is welcome, especially on those crisp fall and cold winter mornings.
Tile Flooring (Porcelain)
Although this seems to be the go-to material for most people to use in their bathrooms, there is likely a reason for it. Porcelain creates a simple and easy-to-clean solution that is unphased by daily wear and tear. It can be customized according to what you envision for your room and easily blend with the rest of your home's aesthetic.
Engineered Hardwood Flooring
It's hard not to simply fall in love with the look and feel of hardwood floors, but if you want this same look to carry into your bathroom, you'll need to look at your options first. Traditional hardwood isn't ideal for environments that contain a lot of moisture (bathrooms), as the planks can warp and become damaged. However, with engineered hardwood, the flooring contains a piece of hardwood on top with composite wood in the middle and pure wood on the bottom layer. Because of how the middle layer is constructed, this type of flooring is highly durable against more resistant to water and humidity.
Your bathroom doesn't have to be boring or uninviting. By choosing the right materials for your new floors, you can prepare to use your powder room as your relaxing getaway for a while.
About the Company
Prestige Floors is a small, family-owned and operated business based in Keller. As a husband-and-wife team, Benson and Ashley Kelly have been improving and transforming the homes of Keller residents and its surrounding communities since 2006. With years of experience and an eye for design, their team is trusted, bonded, and offers only the very best flooring for eager homeowners. If you are interested in replacing your floors or remodeling your home, contact us at (817) 422-5343 to schedule a FREE in-home estimate.