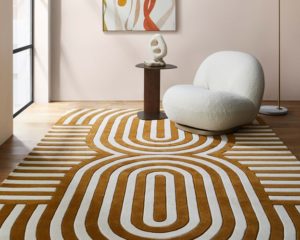 It's finally a new year, and if you're thinking about how you can update the interior of your home and refurbish your floorspace, one style that you shouldn't hesitate to consider is Art Deco. It's one of the hottest trends of 2023, and homeowners from all over are quickly falling in love with the aesthetics of this craze. Keep reading to learn a little more about Art Deco and how you can easily incorporate it into your floors at home!
What Exactly Is Art Deco?
"Art Deco" is short for Arts Décoratifs, and to put it simply, it's a fun and bold design style that combines rich colors, prominent geometry, and decadent detail. The style attempts to capture the glamourous essence of the roaring '20s and bring it right into your 21st century home! Art Deco is a surefire way to elevate your space and impress your family and guests alike!
Elements of Art Deco typically include geometric designs that produce a unique and confident look, and it can be applied to virtually any area of your home! The color palette for Art Deco is bold colors that often feature metallics complemented by black, silver, or gold furnishings. The texture is also important for this design scheme; you can even use materials such as satin, silk, and chrome to add a bit of a Hollywood flair!
The Best Art Deco Flooring Styles
Choosing the perfect flooring for your Art Deco home comes down to finding ways of incorporating geometric patterns and shapes into your floor. You might consider something like a patterned carpet, perhaps with a honeycomb pattern or other geometric contours. But the design isn't all you should focus on—with so many available shades and hues, you can easily find a color that perfectly matches the aesthetic you're going for.
Another way to add the Art Deco look into your home is by selecting flooring in darker shades with noticeable gloss to keep the glamorous qualities of the style around for the long run. Wide-engineered hardwood in darker hues can bring a bold look to any space in your home, coupled with impressive moisture resistance and durability to ensure that it retains its finish.
If you're still brainstorming new ideas for your home this year, Art Deco is one style that's certainly worth considering; you'll love the way it renovates your space!
About Prestige Floors
Prestige Floors is family-owned and operated and has proudly served residents in Keller and the surrounding area since 2006! With several years of collective experience and a trained eye for interior design, you can trust their team to help you bring out your home's fullest potential. If you're curious about learning more or have any questions about the article, feel free to contact them online or over the phone for additional information or to schedule a free in-home estimate! Telephone: (817) 422-5343.